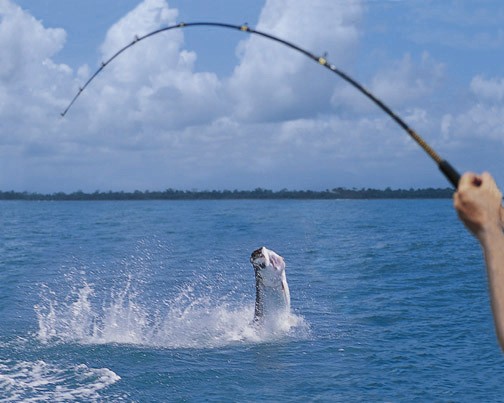 Mexico and all of the seven countries of Central America have excellent travel opportunities for fishing and for other purposes, but some have angling hot spots that attract fishermen from around the world. Following are top saltwater fishing Central American (including Mexico) travel destinations for different types of angling.
Ascension Bay, Mexico Fly Fishing in Salt Water
The flats fly fishing of Ascension Bay, in the Southern Yucatan Peninsula of Southeastern Mexico is some of the best saltwater fly fishing in the world for bonefish, permit, tarpon, snook, and other fish. With many lodges available that have access to the bay and the nearby Boca Paila lagoon, traveling fishermen should have no trouble finding a place to stay, and hooking up with beautiful fish on the Caribbean coast of Mexico.
Los Cabos Offshore Sports Fishing in Mexico
Los Cabos, in Southern Baja California, Mexico is an unbeatable offshore fishing travel destination. Sailfish, blue marlin, black marlin, white marlin, yellowfin tuna, dolphin, and wahoo (the world record of which was caught off of Baja) abound in the Sea of Cortez (Gulf of California) which lies between the narrow peninsula and the Mexican mainland. Roosterfish, snapper, jacks, and mackerel can also be found closer to shore. Los Cabos, the southernmost municipality on the Baja Peninsula, has numerous marinas, all equipped with charter boats for hire.
Iztapa, Guatemala Saltwater Fishing in Central America
Iztapa, located on Guatemala's Pacific coast, is one of the best places in Central America for all three Pacific marlin (blue, black, striped), yellowfin tuna, dolphin, and wahoo, but the sailfish is the area's top fishing trophy, and most pursued specimen by sports fishermen. Arguably, the Pacific waters off of Iztapa are the best in the world for sailfishing. Because of the abundance of these billfish, the area has become a top travel destination for saltwater fly fishermen pursuing sailfish. A smaller fishing community with a small fleet of boats, some of the waters offshore of Iztapa have yet to be explored, and countless sailfish have yet to be caught.
Drake Bay and Golfo Dulce, Costa Rica Fishing Travel
The waters of Southern Costa Rica around the Osa Peninsula have some of the finest offshore fishing for all of the popular gamefish species. Billfish, tuna, dolphin, wahoo, and, closer to shore, roosterfish, snapper, and other gamefish abound in the beautiful Pacific waters of Drake Bay and Golfo Dulce. Fishing out of the towns of Drake, Puerto Jimenez, and Golfito, all of which have available lodgings and other accommodations, is a popular recreation for people visiting Southern Costa Rica.
The above saltwater fishing travel destinations in Central America have some of the best sports fishing in the world. All of them easily accessible, anglers of all types can have unforgettable experiences on the water at all of these places.
---
Why does the cat peeing on bed? Is this normal?
What the best beard oils product most men use?
Check out these best handgun safe place. It has lots of units to choose.
The cool magic tricks are shown in this video.
What is the best power drill in years 2018?
Go here, if you really need the cheap air purifier.